HAIR 101: UNLEASH YOUR CURL POWER WITH THE NEW CURL COLLECTION
Your curls have the power to shape your day, but now you have the power to shape them.
Meet the new Curl Collection
The three-step, science-backed hair care line designed to help you let your natural hair down, no matter what curl pattern you have.
We're talking 3x* stronger curls, enhanced frizz protection, enhanced definition, significantly 
increased shine, and instantly visibly healthier curls—all after only one use of shampoo 
and conditioner versus untreated hair.
Translation =  #YourBestCurls
Mix and match stylers based on your hair type and desired result, then watch them work 
together to give you the ultimate 
curl power
. Excited? Same. Here's everything you need 
to know about our new, highly anticipated Curl Collection.
Traditional curl products mask curl concerns, but neglect to address their root cause: lack of strength. Putting band-aids on curl problems one-by-one just wasn't working. So, we took on our biggest challenge yet: finding a holistic solution for strong, beautiful curls.
The Solution
We created a formula that puts strength first, fortifying the very foundation of your curls. 
Enter the 
Healthy Curl Complex
—our first biomimetic blend that forms a strengthening shield around every curl. A primary ingredient 
in the Curl Collection, it reduces cuticle lift 
to boost strength and prevent breakage, replenishes emolliency levels to increase hydration, encourages curl groupings to enhance definition, boosts alignment for 
added shine and even controls frizz.
The result? Smooth, defined curls from
 root to tip.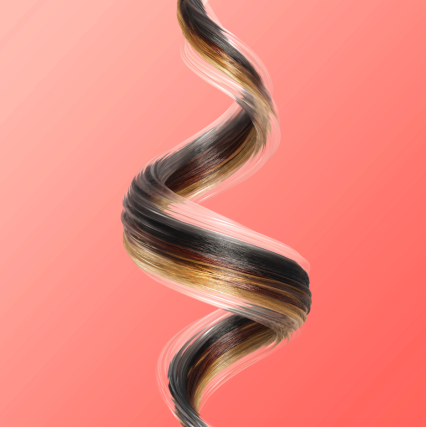 3 Steps to Stronger Curls
Forget the flax gel. Ditch the DIY sprays and oils. With the Curl Collection, smoother, 
more defined curls are only three steps away.
Step 1: Cleanse
Meet the stars of the Curl Collection: the shampoo and conditioner. Wash day shouldn't feel like a chore. Our cleansing and conditioning duo starts defining curls in the shower—giving you a strong foundation for styling and beyond.
First, cleanse with our creamy, low-lather Curl Shampoo. It has a light, refreshing scent 
and a hint of conditioning for fresh, defined curls straight from the shower.
Next, moisturize with our oh-so-luxurious Curl Conditioner made to hydrate and detangle 
all types of textures, while encouraging curl groupings (hello, definition).
Step 2: Treat and style
Styling, with a twist. These dual-action conditioning stylers treat hair while they work, 
giving you healthier, stronger curls with every style.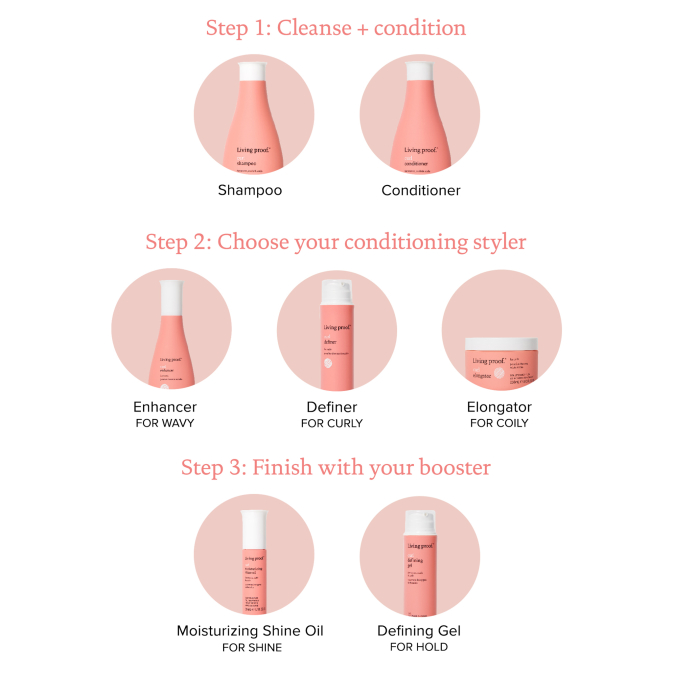 Okay, but where's the leave-In?
We took a new approach, trading leave-in conditioners for conditioning stylers that do their job for them. So you can have your style and treat it, too.
Curl Enhancer: Best for wavy hair, this lightweight conditioning styler enhances natural texture and protects against frizz—for effortlessly soft, shiny waves.
Curl Definer: Best for wavy and curly hair, this conditioning styler defines and hydrates curls from root to tip for bouncy, shiny, frizz-free curls. (No curveballs).
Curl Enlongator: Best for curly and coily hair, this elongating conditioning styler defines and detangles even the tightest coils—for soft, shiny, frizz-free curls, without the shrinkage.
Step 3: Finish
Finish strong with a boost in shine and definition. Whether you need a little extra frizz 
control or an extra shot of shine, these finishers will complete your look.
Curl Moisturizing Shine Oil: This silicone-free oil boosts shine, moisture and smoothness 
for healthier curls and happier hair days.
Curl Defining Gel: This lightweight styling gel is made to deliver humidity-resistant control 
and definition, without the crunch. 
Where's the Healthy Curl Complex, you ask? 
The Healthy Curl Complex isn't in our finishers because they're targeted products for added 
shine or hold. It is, however, in all of our care products to ensure its curl-loving benefits are being consistently delivered.  
How the Curl Collection Was Born
First: identifying the problem.
Curls can be… complicated. From frizz and dryness to dullness and breakage, there doesn't seem to be a simple solution that works for your curls.
You're left to fend for yourself—mixing different product lines or even turning to DIY solutions to get the look you want. Even after all that effort, your curls are never satisfied for long. Every wash day is like starting back at square one.
We knew there had to be a better way, so we put our scientists and stylists to work. 
Process makes perfect
When we started developing this line, we knew we needed to consult with the curly hair experts. (Pssst...that's you). 
We surveyed 250 curly consumers to get to know their biggest challenges, then we interviewed nearly 100 more curly people to learn about their curl journey—what works, what doesn't and, most importantly, what's missing. 
We had them show us their curl routines and tested existing curl care lines on their hair. We asked them what they loved and what they didn't. We even put our old curl line to the test. Notes? Taken. Lessons? Learned.
• 
Surveyed 250 curly consumers to get to know their biggest challenges.
• 
Studied nearly 100 curly-haired consumers' curl routines.
• 
Tested existing curl care lines and DIY products on their hair to find out what they loved 
• 
Spent months in the lab studying curl structure and solutions to common curl problems.
•
 Developed and tested over 230 formulas.
• 
Collaborated with Ursula Stephen (celebrity stylist and curl expert) to finalize formulas 
• 
650 curl tests were performed 
Throughout our research, we heard you say that you wanted more definition, hydration, smoothness and shine. We found that the key to achieving all of these benefits at once was to strengthen the foundation of your curls.